Welcome O'Canada Bison Wool Corp. Visitors
You have been forwarded to our US partners - The Buffalo Wool Co. to better serve you.
If you have any questions or inquires we can be reached at:
sales@thebuffalowoolco.com OR sales@ocanadabison.ca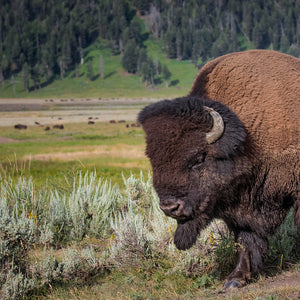 Bison Fiber Apparel by
The Buffalo Wool Co.
Our family
has been raising American bison for almost 40 years.
We've spent the last ten years developing a supply chain here in the U.S.A
that brings together bison ranchers, small independent mills, and local manufacturers.
We believe that by working together, we can preserve America's national mammal: the American Plains Bison.
Shop Bison Fiber Socks
Shop Bison Fiber Knitwear
American Field Boot: Kodiak Edition
Extra-Heavyweight boot sock made primarily from ultra-insulating American bison fiber.
The ultimate sock for thrill-seekers and outdoor enthusiasts. It's our latest edition in our extreme gear line-up, designed to withstand the harshest climates. So lace up your boots and let the adventure continue with our unbeatable AF Kodiak Boot Sock! 🏔️🧦 #AdventureGear #UnleashTheExplorer
Learn more
Soft enough to wrap a baby in, tough enough to keep a mountain man warm in a blizzard!
It's Soft! Bison down fiber has a remarkable I-want-to-be-next-to-the-skin feel. This solid core smooth protein has a micron count of about 15. No prickle, scratch, or itch. Just soft and cozy.
It's Warm... Have you ever seen a buffalo in the snow? The crimpy down creates thousands of tiny air pockets all insulating you as no other fiber can. The natural insulating and moisture-wicking properties are what make it one of the warmest fibers.
It's Hypoallergenic.  Materials made of natural fibers are considered the best fabrics for allergy sufferers. These fibers are free from harsh chemicals that could cause a recation. After we harvest the down fiber we ensure it has been thoroughly scoured and contains no lanolin or grease. This helps ensure minimal reacation to the natural fiber.
It's Tough...   Our American bison down yarns are Buffalo Tough.
Read more
Our Promise to You
1. We stand behind every product 100%, if you don't absolutely love your purchase here, we will replace, exchange or buy it back.... your choice.  
2. We are committed to helping conserve and promote the American plains bison and the ranchers that raise them.
3. We are available to answer questions most of the time, and we love talking to people about bison and our bison products.  
WE BELIEVE YOU'RE ONLY AS GOOD AS YOUR WORD.
Please, if you have any questions, call or write.. we answer emails fairly quickly, and the phone most hours.
Contact Us
Our Famous Bison Wool Socks
| | | | | | | | | | | | |
| --- | --- | --- | --- | --- | --- | --- | --- | --- | --- | --- | --- |
| | American Field Kodiak Edition - Extreme Gear Boot Sock | Trekker - Advantage Gear Boot Socks | Pro Gear Boot Socks | Yellowstone - Advantage Gear | Pro Gear Crew Socks | Casual Crew 2.0 - Ultralight Gear Crew Socks | Really Really Nice - Crew Sock *Limited Edition* | O.T.C. - Advantage Gear Compression Sock | Kenai - Ultralight Gear Boot Sock | The B.O.S.S. - Short Sock | Red Dog Kids American Field Jr. - Crew Socks |
| Height | Boot 14" | Boot 14" | Boot 12" | Crew | Crew | Crew | Crew | Over-the-calf | Over-the-calf | Ankle | Crew |
| Weight | Extra Heavyweight | Extra Heavyweight | Midweight | Heavyweight | Midweight | Lightweight | Lightweight | Midweight | Midweight | Midweight | Midweight |
| Typical-Use | Extreme cold climate | Extreme cold climate | hiking, hunting, fishing, skiing, snowmobiling, sledding, ice skating, dog-walking | Hiking, Hunting, Just a good warm sock | Daily Wear (all climates) | Daily Wear (warmer climates) | Just about anything | Non-medical grade compression | Fishing/Hunting/Hiking | running & tennis shoes, casual loafers, golf, shooting sports, short hikers, daily wear | Anything, Everything |
| Cushioning | Full cushion | Full cushion | Under foot cushion | Under foot cushion | Under foot cushion | Flat knit (no cushion) | Under foot cushion | Under foot cushion | Under foot cushion | Under foot cushion | Full cushion |
| Customer Reviews | | | | | | | | | | | |
Bison Ranch Directory
View All Ranches
Since day one, The Buffalo Wool Co. has been committed to helping conserve the American Bison and the ranchers that raise them. Over the last 10 years, we've built relationships and friendships with some amazing folks in the industry. Most of those folks run under the radar, so we're excited to share their stories with The Buffalo Wool Co. community.
So click around; read some great stories and look at some amazing photos. If you feel so inclined, give these fine folks a follow on their socials.
Run a bison ranch?
Have we got a deal for you! The Buffalo Wool Co. wants to promote you, your ranch, and your products.
Join Today
 It started with one pair of these socks. That didn't last long, I needed more. I wear them either by themselves around the house in the evenings or in between my callused hooves and a tattered pair of Red Wing Iron Rangers while I'm at work. If it's cold and I'm lazy, I'll wear them twice before washing. They get thrown in the wash with work pants and all of my other nasty metal chip covered, gear oil stinking work clothes. They come out of the dryer with no appreciable pilling, smelling of freedom, blue skies, and ready for another day's work. On top of that - no shrinkage (something admirable in almost any situation). 


P.S. If I know you in real life and you don't love these socks, I may have to re-evaluate our friendship.

Chad Tudor - Questionable Origin
By far the best pair of boot socks I have ever worn in my 30 + years os hunting over mostly wet ground. 
I will never buy hunting socks off of the rack again. Dry, soft, comfortable, all day long in the field or on the road. I wish I could give them 10 stars.

Bob Davis, Mossy Oak Game Keeper
Advantage Trekker Bison/Merino Boot Socks

I wore them every day during Kansas rifle season, both hunting and guiding. (I did wash them occasionally.) Extremely comfortable, very warm including when damp, amazingly washable. Awesome socks! 

Craig Boddington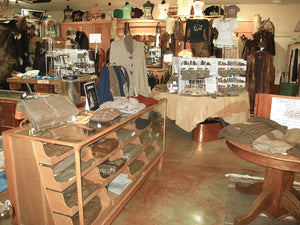 The Herdwear Store- Goodnight TX.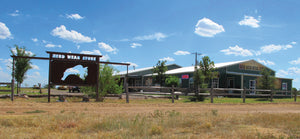 33 Miles South of Amarillo TX.
Right on Hwy 287

The Goodnight Country Inn
Come see the largest collection of bison art and memoribila anywhere.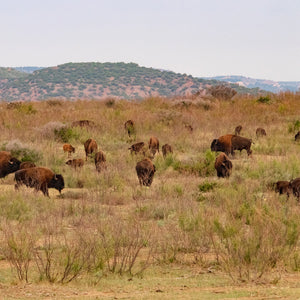 Looking for something really different?
The Herdwear Store
Goodnight, TX.
our retail location and art/books/antiquities website