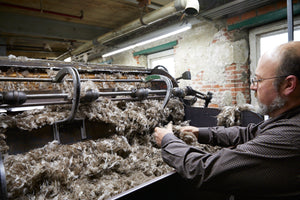 About
The Buffalo Wool Co.
Purveyors of fine yarns and garments from the American Plains Bison
A Family Tradition
Howdy! We are Theresa & Ron Miskin and we are The Buffalo Wool Co. Our family has been raising bison in North Texas for almost 30 years. We are passionate about education and bringing you the best quality bison products.  
To achieve this, we've spent the last twelve years developing a supply chain that brings together small mills, local designers, and large ranches. We believe that through creating this supply chain we can work together to preserve one of America's great symbols, the national mammal, the Bison. As a result, bolstering the U.S. economy by focusing on American Made products.
The Buffalo Wool Co. Promise
Because You're Only as Good as Your Word.
1. We are committed to helping conserve and promote the American plains bison and the ranchers that raise them.
2. Every Buffalo Wool Co. product has a 100% guarantee. If you don't absolutely love your purchase, just tell us which you would prefer: a replacement, an exchange, or buy back.
3. We love talking to people about bison and our bison products. If you have any questions, please call or write. We answer emails, and the phone, as quickly as we can during most business hours.
Bison Fiber Socks
Shop Socks
Bison Fiber Gloves
Shop Gloves & Mittens
Bison Fiber Beanies
Shop Beanies & Knitwear